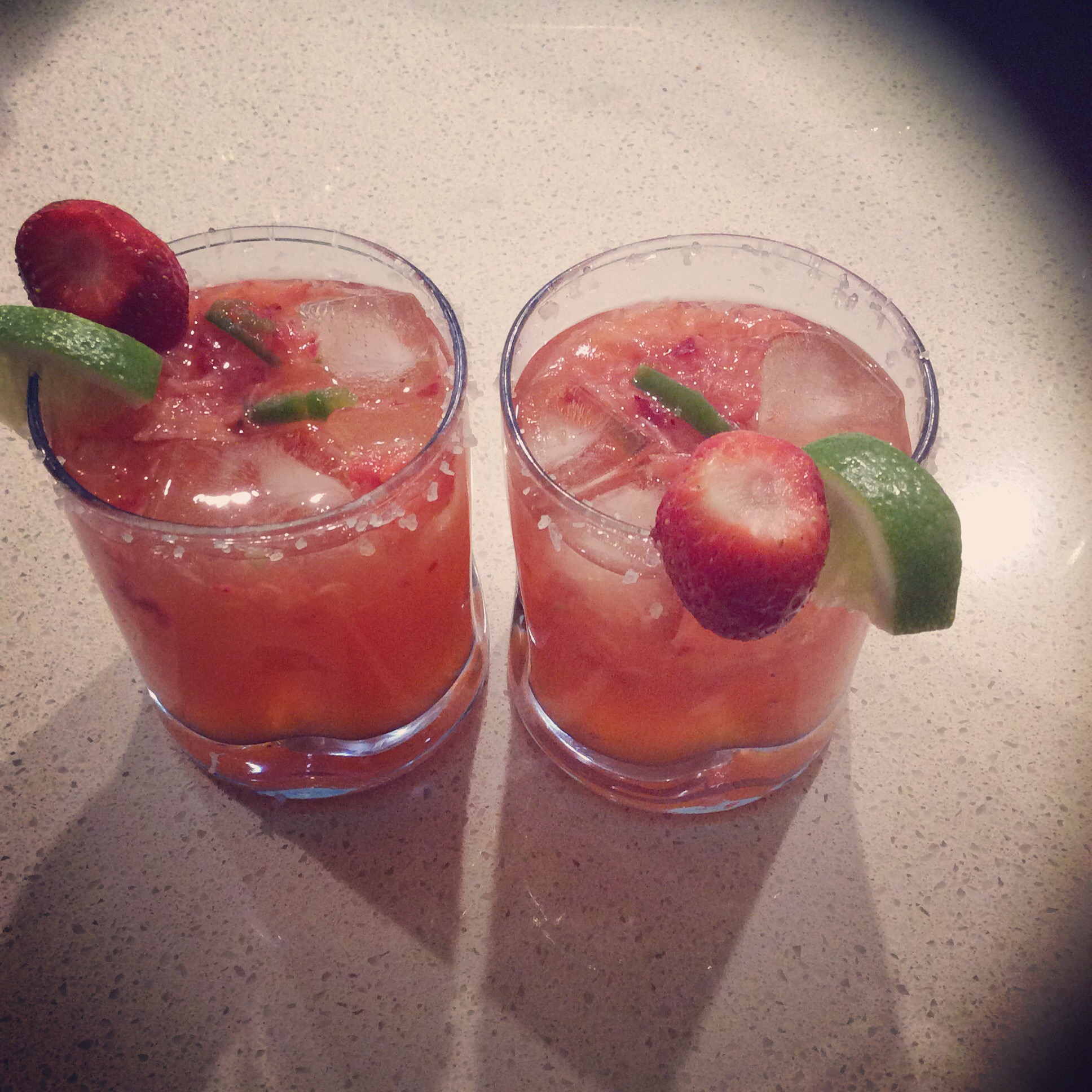 This refreshing margarita is a new favorite of mine. I came up with it one day when the husband and I were in the mood for a spicy margarita.. And low and behold I had a box of strawberries that needed a little loving..
Ingredients
Jose Cuervo Gold Tequila
2 ounces of Orange Liqour
Splash of *Simple Syrup
10 Strawberries
1 lime
1/4 of a Jalapeño
Coarse Salt
* Simple Syrup
1C Sugar in the Raw
1C Water
*In a medium saucepan combine water and sugar, bring to a boil while continuesly stirring. Once sugar is fully dissolved, remove from heat and let the mixture cool. I like to keep a bottle in the fridge to have for a quick cocktail or iced coffee. It keeps for about a month.
Slice your jalapeño and in a separate glass pour enough tequila for two drinks.. about 4 ounces. Put the jalapeño into the glass with tequila and set aside so it can soak while you prepare everything else. Cut up your strawberries, keeping to whole ones aside as garnish and put the rest into a cocktail shaker. Using a muddler or a big spoon, muddle up the strawberries. Cut a lime in half, saving two slices for garnish and squeeze the remainder into the shaker. Add in a good squirt of simple syrup, the Orange Liquor, and toss the jalapeño-tequila mixture in. Prepare two glasses with a bit of lime juice on the rim then twirled in the salt. If your feeling really spicy….add some cayenne pepper into the salt first. Fill the glass with ice, give the cocktail shaker some good shakes and pour over the ice. Garnish with a strawberry and a big slice of lime. Enjoy!