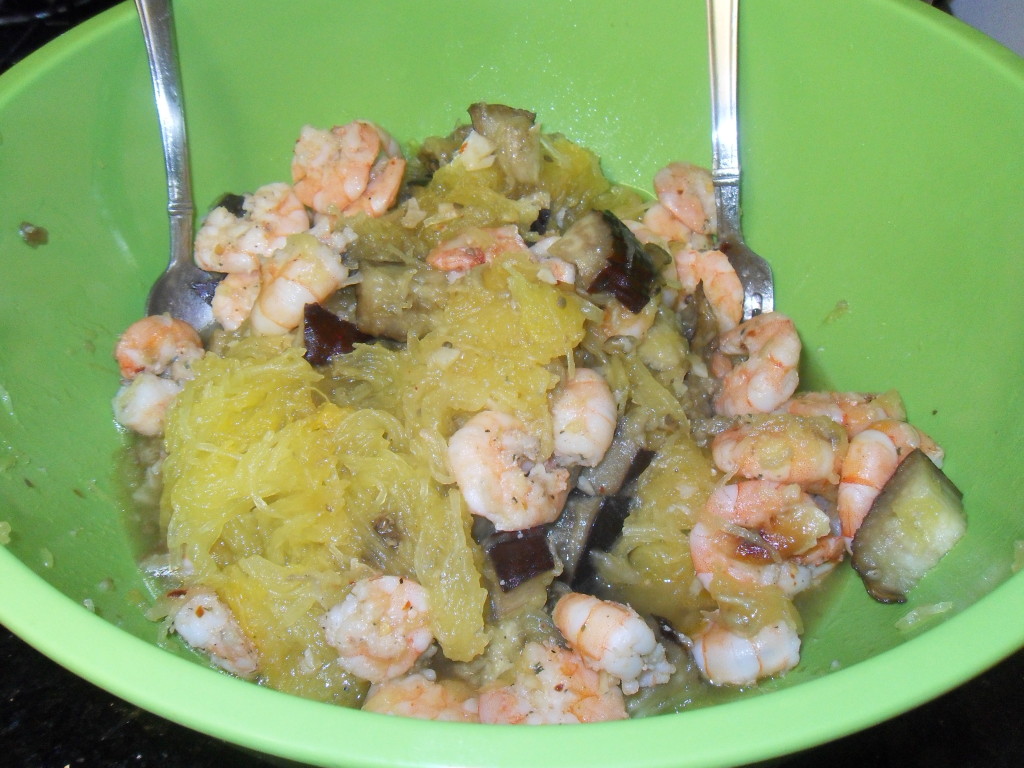 A yummy and healthy dinner that I love to make, is this nutrient filled dish of oven roasted spaghetti squash, eggplant, and garlic, mixed with sautéed shrimp. On days that are a little hectic, and all I want to do is throw a meal into the oven and forget about it, this is one of my goto's. Although my Italian roots are part to blame for my love of pasta, spaghetti squash is a great alternative. Instead I get an extra veggie that is rich in Omega 3 and Omega 6 fatty acids both vital to good health. Helping prevent heart disease and cancer it also aids in brain function. Eggplant is a great source of B1, B6, Potassium and dietary fiber. It's deep purple skin is high is antioxidants, so much that it can be helpful in preventing and the progression of some cancers. It also helps manage type 2 Diabetes and lowers Cholesterol. Drizzled with a bit of olive oil and then roasted, the garlic in this recipe has many health benefits. Although raw and chopped garlic is even healthier. Garlic is known for is antibacterial benefits and blood cleansing properties. An aid to helping with Acne, it is also great for heart health as well as maintaining good cholesterol.
Hit the jump to read on for the recipe!
Preheat oven to 350° F
Ingredients

1 Large Eggplant
1 Spaghetti Squash (cut across lengthwise)
1 bulb of garlic
1 pound of Shrimp (peeled and deveined)
Ricotta Cheese
Olive Oil
Salt, Pepper, Red Pepper Flakes
Preheat oven to 350° F. On a lined cookie sheet, place eggplant on and pop a few holes all over. Do the same with the Spaghetti Squash. Take your whole bulb of garlic and cut the top off, exposing the tops of the cloves. Drizzle olive oil over the top of the garlic. Roast in the oven for about an hour, until the eggplant and spaghetti squash get soft and start to collapse. The last 10 mins start sauteing your shrimp with a bit of olive oil in the pan. Once the shrimp are cooked, set aside. After roasting scrape the spaghetti squash with a fork into a bowl. Cut Eggplant into chunks. Pop garlic cloves out and mush in. Add shrimp and toss it all together. Sprinkle with salt, pepper, and red pepper flakes. Serve with a spoonful of fresh ricotta cheese. Enjoy!